Hometown Blues – a film about the volunteers at Hertford Town Football Club.
"During lockdown – whilst out walking the dog, I decided to wander into the local football ground, the gates were open and it was a hive of activity from door hanging, fence painting, pitch mowing and even plant growing. I was invited into the boardroom for a cup of tea with the volunteers of the club. Discovering a rich mix of people in love with the club and the real social network it has created." – Paul, Demographik.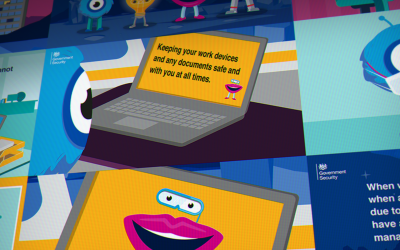 Government Security employs 11,000 people who, like the rest of the UK, found themselves suddenly working from home during the 2020 pandemic. Ensuring that all employees had the right guidance and protocols to carry out their security sensitive work, was a top priority. We stepped in to create a campaign which delivered key security behaviour messages, in a visually vibrant and informative way.
read more
Say Hello...
Want to find out more? Then get in touch with Sandy. Click here to send her an email or call 0207 843 6959
Brand
Asset creation
Asset libraries
Brand audits
Brand expression & delivery
Brand guidelines
Brand positioning & messaging
Identity design
Name generation
Tone of voice
External studio support
Workshops
YourBrandOnline.co.uk
Web Design & Build
Content management
Front-end design
Hosting and support
Information architecture
Microsites Intranet sites
Online guidelines
Prototyping
Social content creation
Wireframing
WordPress development
Web & mobile apps
Information Design
Form design
Icons & Pictograms
Infographics
Information guidelines
Information reviews
Information systems
Maps/network diagrams
User journey mapping
Process diagrams
Product hierarchy plans
Timetables
Wayfinding
Marcomms
Advertising (digital & print)
Annual reports
Brochures & white papers
Direct Mail Leaflets/Newsletters
Email marketing
Event materials
Illustration
Infographics
Integrated campaigns
Internal comms
Presentation design
Other Services
Copywriting
Event stand design
Large format display graphics
Media buying
Photography
PowerPoint presentations
Print handling