Creating impact on bike, bus, train and plane
Transport for London
Transport for London (TfL) need their messages to cut through the noise and communicate effectively to London's population. Add to that the fact that many Londoners do not speak English as a first language, information needs to be clear and confidently presented.
Heathrow Terminal 5
With five terminals at Heathrow it is important for passengers to exit the Tube at the correct stop. This project looked at creating a design that clearly illustrated the issue. After 10 years of being installed on the Piccadilly Line platforms and within carriages, the design was only updated recently. This proved that a simple and impactful idea always survives the test of time.

Works and Closures – Transforming the Tube
While Tube transformation works was being implemented across the TfL Network, there was a need for a range of communications that inform passengers of the on-going work around them. The design solution was a clean and simple approach, that could deliver a wide range of messages within a colourful and consistent creative.

Regional Bus Maps
Iconic and unique covers for the five London regions – Central, NW, SW, NE, SE. We researched each area and created illustrations which celebrated iconic landmarks, cleverly constructed form the region's identifying letters.

Local Cycling Guides
We created a series of appealing illustrations for the covers of the local area cycling maps. The illustrations featured well known landmarks and were imbued with the carefree spirit of cycling.
The team at Demographik were responsible for delivering a variety of projects for TfL. They have particular skills and expertise in the area of information design, always managing to find a way of simplifying and enhancing complicated information products. They have made a significant impact on the quality of our information and marketing materials and have always been a pleasure to work with.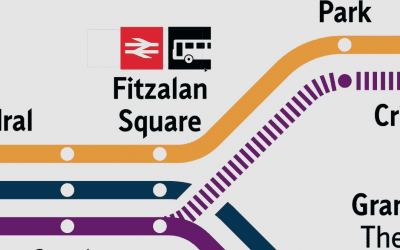 From a complete audit of national transport networks to rethinking and designing single mode icons, we make information accessible. Across the UK, by rail, bus, tram and on foot, we aim to help passengers get to where they want to be.
read more
Want to talk to us about a project?
Email: info@demographik.co.uk
Call: +44 (0)20 7843 6959
or fill in the form below...