World class information design
Transport for London
Transport for London (TfL) need to communicate a complex variety of information, as clearly as possible, to their commuters in order for them to navigate their journeys successfully. We have worked with TfL on a diverse range of projects utilising our information design expertise including: Works and Closures, technical guidelines and reviewing the Tram Network.
Works and Closures – Guidelines and Production Information
Across the whole TfL network there is a need to inform passengers about Works and Closures. Lines can be closed or suffer from temporary or long terms engineering work. We were tasked with designing the guidelines that defined the rules and production processes that made sure that the information communicated was consistent and on-brand.
Works and Closures – Service updates
The Tram Network
From an initial recce of the Tram Network we created a report for Transport for London to review. The report was a record of what we found on our travels across the Network, visiting every stop and information point on all three lines. Following this report, we were commissioned to redesign the on-platform information panels (general information and ticketing) as well as bringing the network diagram in-line with the wider TfL transport map. We also created a new look and feel for all Tram leaflets, timetables and takeaway products.
Bus consultation mailer – Have Your Say
We used our information design skills to really think about how the bus consultation questionnaires work, and redesigned them to increase local response and interaction. Our approach was to cut the written information by 60%, switching to maps and diagrams to demonstrate the proposed changes. This made the consultation work easier to understand and greatly increased the response rate from the general public.
The team at Demographik were responsible for delivering a variety of projects for TfL. They have particular skills and expertise in the area of information design, always managing to find a way of simplifying and enhancing complicated information products. They have made a significant impact on the quality of our information and marketing materials and have always been a pleasure to work with.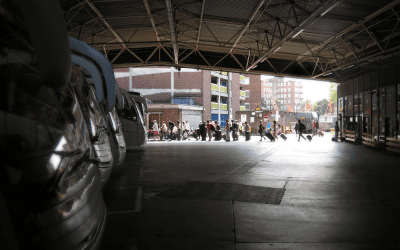 Helping people get to their destinations on public transport, with minimal stress and maximum support, depends on cleverly designed customer information – whether it's take away printed items, static on-site signage or maps.
read more
Want to talk to us about a project?
Email: info@demographik.co.uk
Call: +44 (0)20 7843 6959
or fill in the form below...