Celebrating all that London has to offer
Transport for London
The body of work we've produced for Transport for London (TfL) include many projects centered on showcasing and celebrating London's unique history, culture and vibrant social calendar. From researching and uncovering the hidden history of London's Tube stations to giving buskers a stage and much more. The first step is capturing the attention of busy Londoners, and only then can the key information or a service message be delivered effectively – helping passengers celebrate the event or attraction in a safe and enjoyable way.
TfL Events Campaign
For a number of consecutive years we produced the campaigns for the TfL event calendar, which included Festive, New Year's eve, Chinese New Year, Boat Race and the Notting Hill Carnival. Using highly creative illustrations to draw attention to the different events whilst communicating key information around travel and safety.
TfL Heritage Campaigns
The rich and interesting history of the Tube was celebrated by these projects, promoting the significant anniversaries of some of the lines and stations. We did the research, used the architecture and often hidden history as inspiration for the final designs.

TfL Busking – Let The Music Transport You
A campaign to create an identity for live music on the underground. 'Let The Music Transport You' was installed across the Underground network on DR posters and actual 'performance' stages where professional buskers were invited to perform and entertain commuters.
The team at Demographik were responsible for delivering a variety of projects for TfL. They have particular skills and expertise in the area of information design, always managing to find a way of simplifying and enhancing complicated information products. They have made a significant impact on the quality of our information and marketing materials and have always been a pleasure to work with.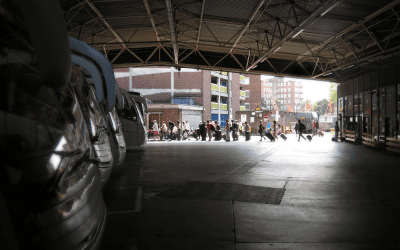 Helping people get to their destinations on public transport, with minimal stress and maximum support, depends on cleverly designed customer information – whether it's take away printed items, static on-site signage or maps.
read more
Want to talk to us about a project?
Email: info@demographik.co.uk
Call: +44 (0)20 7843 6959
or fill in the form below...