Prestigious positioning for Private Clients
Aon
The Aon Private Clients team arranges insurance cover for everything – from high-value homes, contents and valuables to individual works of art, prestige cars and boats. They also specialise in protecting country houses, estates and farms.
We were briefed with designing a 'look' that positioned the Private Clients business as a prestigious offering. This project involved creating a distinctive, premium-style brand iteration that still reflected the core Aon Affinity brand.
The designs used slate grey and metallic silver with a spot of red, coupled with aspirational imagery. We designed marketing materials such as brochures, a document wallet, stationery and policy documents.
With a new Head of Private Clients at the helm and a full suite of stunning marketing materials, the Private Clients team are fully equipped to develop the business and enter the market with clear stand out from the competition.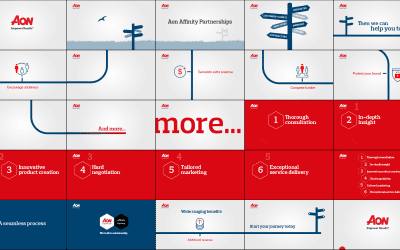 We continue to work with the Stamps and Philatelic department of Royal Mail to produce a range of coin and medal packs. The packs need to appeal to enthusiasts of specific subject as well as to dedicated philatelists and numismatists.
read more
Want to talk to us about a project?
Email: info@demographik.co.uk
Call: +44 (0)20 7843 6959
or fill in the form below...